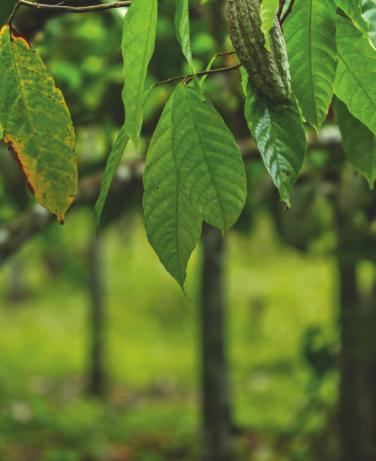 DISCOVERING THE INGREDIENTS BEHIND OUR PRODUCTS
At Ferrero, we care about the ingredients that go into each brand you have come to know and love. We do not simply buy ingredients – we carefully select, manage and aim to create value for all across our supply chains.
To source raw materials such as cocoa, palm oil, hazelnuts, sugar, milk and eggs to make our products, we rely on long-term relationships with suppliers to ensure they understand, practice and embrace our values. Traceability enables us to monitor how our raw materials are produced.
'Sacco conosciuto' – 'knowing what's in the bag' – has been in the company's DNA since it was founded.
Since its origin, Ferrero has developed innovative procedures, such as the so-called "sacco conosciuto", for checking ingredients at every step of the product creation. Translated literally as 'knowing what's in the bag', this focus on fresh quality ingredients, nurtured and sourced from carefully selected suppliers and farmers, continues to inform our commitment and care for checking the ingredients every step of the way. Furthermore, technology and close partnership with suppliers allow us to scale this commitment in today's global supply chain.
Our leading framework for traceability allows us to trace all our relevant raw materials back to their origin. We can positively impact supply chains only when we know where our ingredients come from. For example, palm oil and cocoa are mostly traceable back to the plantation or farmer, while milk and eggs have a high level of traceability that we will continue to enhance.
We are using innovative technology to support our goals. For example, we partner with Sourcemap, a leading provider of supply chain mapping and digital transparency solutions and a tool for improving the traceability of raw materials like cocoa, palm oil and hazelnuts. Having more information, data and monitoring also helps us support sustainable livelihoods and prevent risks such as deforestation or child labour.
Commitments for each key ingredient
We have published Commodity Charters for all our key ingredients, such as cocoa, palm oil, hazelnuts and dairy. These charters set out the minimum requirements our suppliers must meet, alongside our Supplier Code and due diligence process, and define the certifications and standards we require for that category.
They also include the level of traceability we aim for, specifying the adopted methodology and technology. Finally, the Charters outline the commitments we are prepared to make to further improve conditions, with a three-year plan where we report our progress publicly.
We cover each of our categories with a protection level based on its level of risk:
Supplier risk management and due diligence. All our suppliers undergo a risk assessment and, as such, a minimum level of due diligence.
Supply chain visibility. Supplier risk management helps us measure, improve and assess supplier practices. It includes analysing risks and opportunities, ensuring compliance, improvement activities and building capability.
Standards and certifications. We follow strict sustainability standards on products such as raw and packaging materials, for example, RSPO for palm oil, independently managed standards like Rainforest Alliance and Fairtrade for cocoa, FSC and PEFC for virgin paper, and Bonsucro for cane sugar.
Mitigation programmes. For higher-risk categories, we invest in mitigation programmes to improve standards.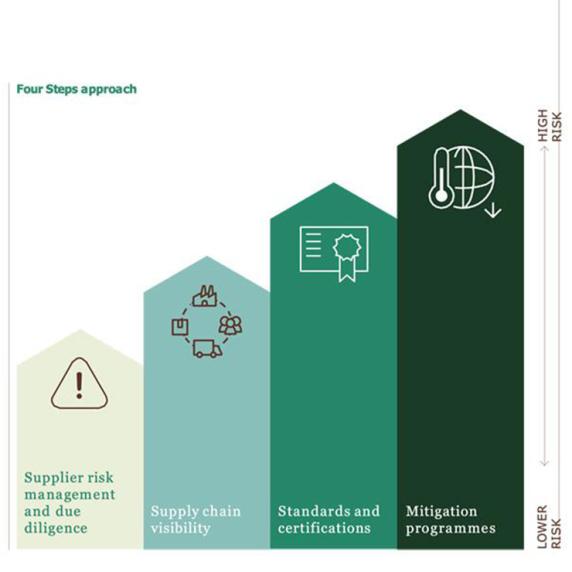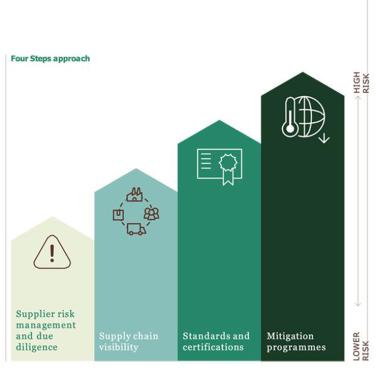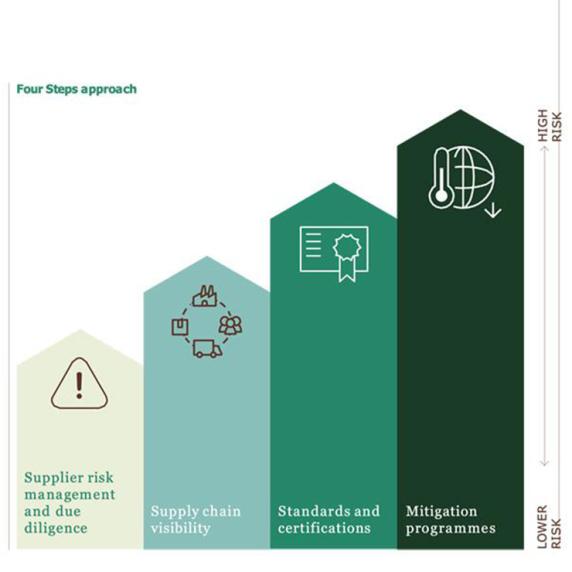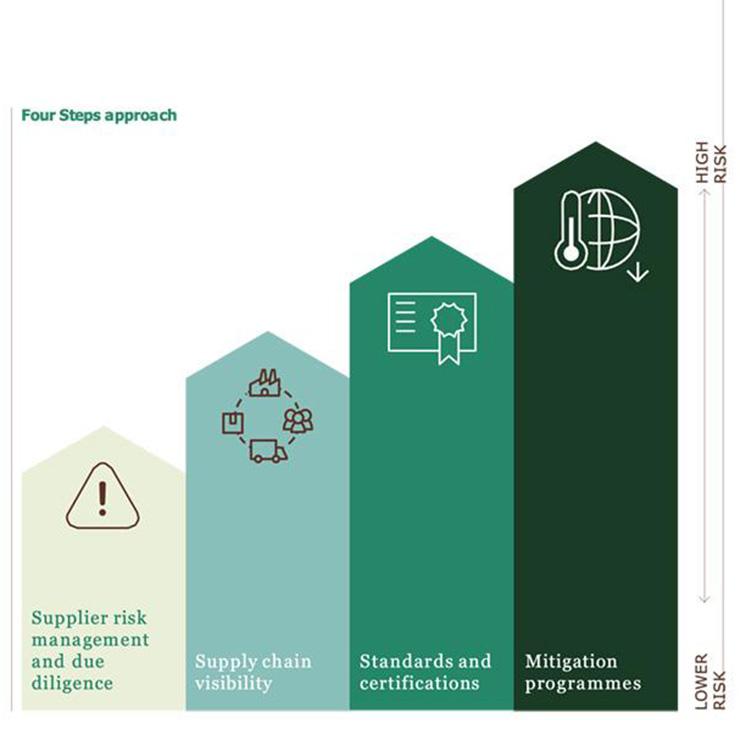 Four-steps approach
We take a four-steps approach – the higher the risk, the stronger our level of understanding and protection of the supply chain needs to be.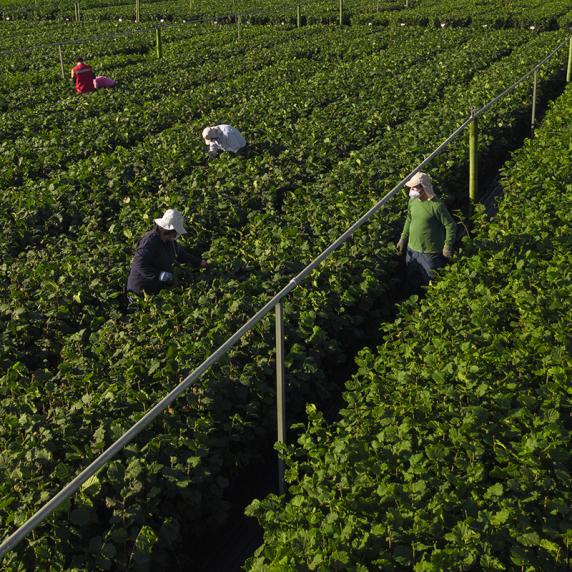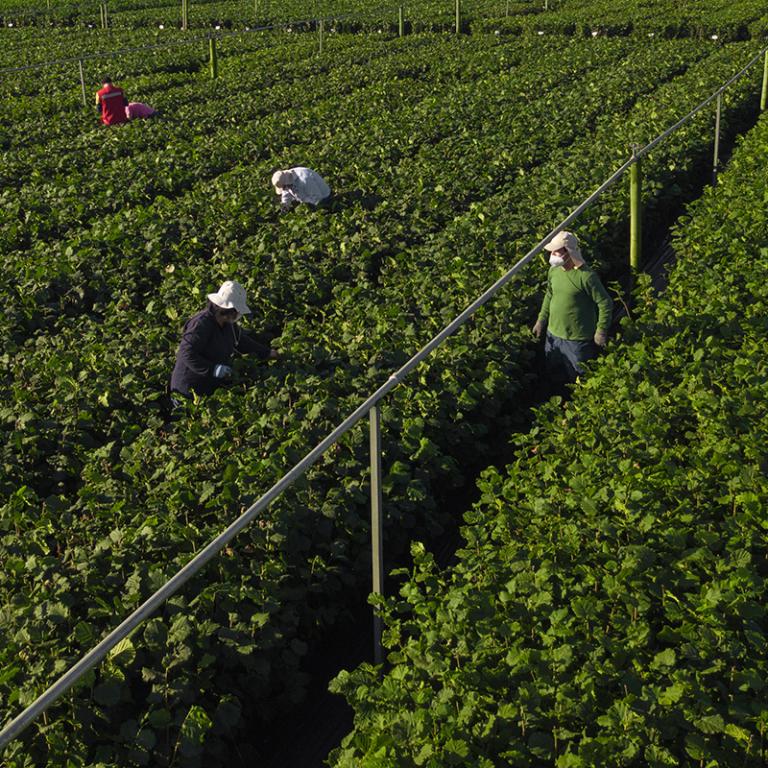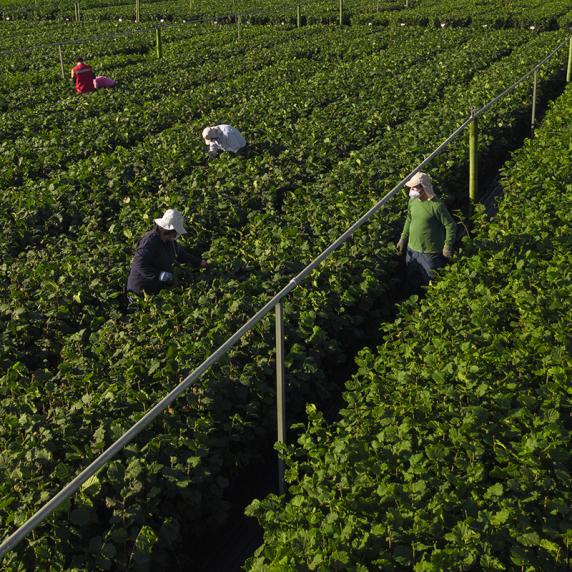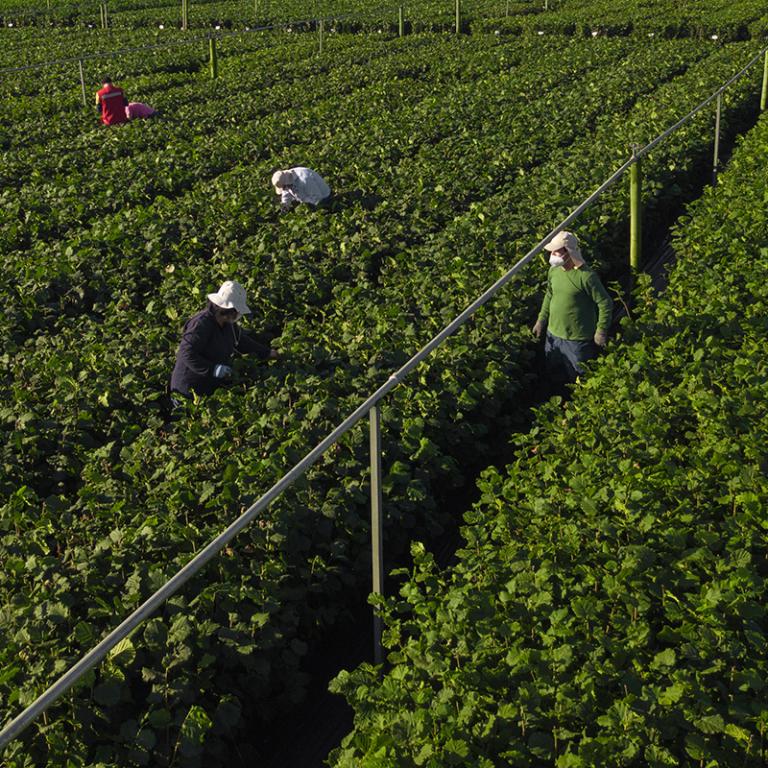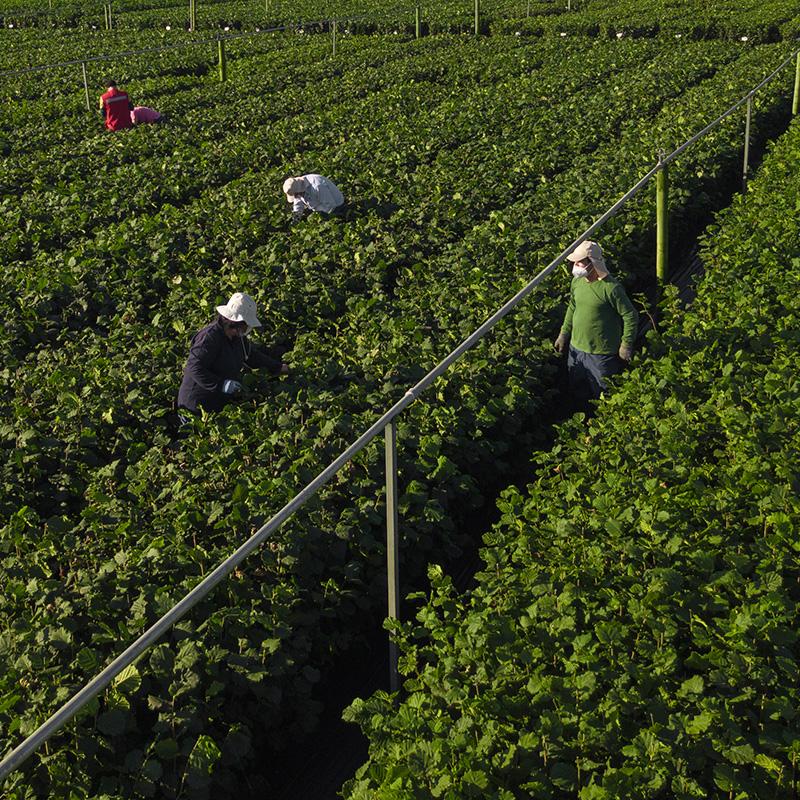 Strong values
Ferrero is a family company with strong values. Our duty is to work towards a fair, sustainable and transparent supply chain and support the communities we source from. We don't just buy commodities; we build supply chains and aim to maintain them. We nurture long-term relationships with suppliers to ensure they understand, practice and embrace our values. 
Support for EU Deforestation Regulation
Ferrero supports legal frameworks to address deforestation linked to key ingredients as part of a smart mix of measures to achieve positive systemic impact in supply chains. In particular, Ferrero is in favour of the EU Regulation on deforestation-free supply chains and its implementation as it constitutes a harmonized framework to provide actors in the value chain with legal certainty and guidance on traceability and accountability requirements, while guaranteeing a level playing field based on adequate due diligence requirements.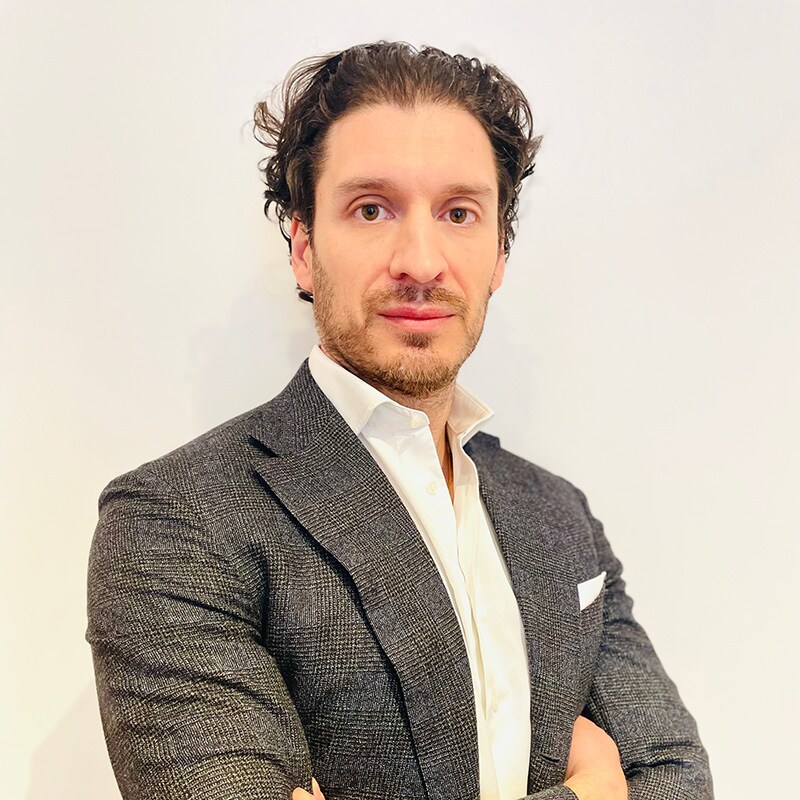 " Our approach is built around robust due diligence, supplier management, traceability and transparency, certification and standards, partnerships and collaboration. Building long-term relationships and supply chain transparency is deeply rooted in our culture."
Nicola Somenzi, Head of Responsible Sourcing, Ferrero.
Reports and Charters
downloads
THERE IS STILL
A LOT TO DISCOVER